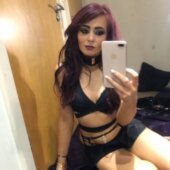 As you are already here, you should know who I am. If not, let's get acquainted — my name is Alessa. I'm a webcam model who lives in the UK but came here from the Caucasus. No, I'm not a prostitute. Nope, I'm not a porn actress either. Cam modelling is a different part of the adult industry, which you should discover for yourself.
I've spent more than a quarter of my life on boring sex with unknown partners. And then, I found the beautiful world of adult content. It's much safer than other types of adult content, and it's much more honest.
To be entirely honest with you, I prefer to stream on Twitch. But Twitch does not allow adult content, and I'm too horny just to play computer games. As for me, Adult cams are an excellent alternative to regular streaming. As a model, I earn enough money for a great life.
But why did I create this site, and why should you spend more than one second to read this page? At the start of my career, I spent a lot of time on scam sites as a cam model. Unfortunately, most of them squeezed out all my energy and paid next to nothing. That's why I wasn't satisfied with their service. Sometimes, my viewers even lost connection and did awful things.
That's why I tried all of the popular platforms before I made my final choice. And so, I share my experience with you. As a performer, you can be sure you do not waste your time stroking without a reward. As a potential client, you'll find a cheaper place, but not worse than others.
Oh, I almost forgot. If you want to watch my personal shows, just follow me on Twitter, Instagram, or any other platform where I regularly do my own shows.